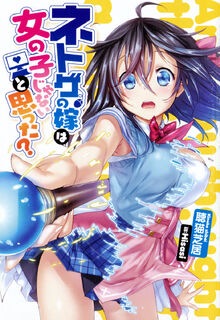 Netgame no Yome wa Onna no Ko ja nai to Omotta? (ネトゲの嫁は女の子じゃないと思った?; "And you thought there is never a girl online?") là một light novel được viết bởi Kineko Shibai và được minh họa bởi Hisasi.
1. Tóm tắt cốt truyện
Edit
Nishimura là anh chàng ngây thơ, dễ dụ, đã tỏ tình với một nhân vật nữ trong Game online, nhưng đáng tiếc thay nhân vật nữ đó là trap :v Chán đời, anh đã thề rằng sẽ không bao giờ tin một cô gái nào trong Game online nữa thì 2 năm sau một Yandere đã tỏ tình với anh, và chính thức trở thành vợ của anh (trong game). Tiếp đó anh gặp thêm một Tsundere và 1 BB. Số phận của anh sẽ ra sao? (liệu có RIP ko? :v )
2. Lịch sử cập nhật
Edit
3. Đăng ký
Edit
4. Netoge no Yome wa Onnanoko ja Nai to Omotta?
Edit
5.Nhân sự
Edit
6.Tổng quan series
Edit
ネトゲの嫁は女の子じゃないと思った (July 10th, 2013)
ネトゲの嫁は女の子じゃないと思った Lv. 2 (October 10th, 2013)
ネトゲの嫁は女の子じゃないと思った Lv. 3 (February 8th, 2014)
ネトゲの嫁は女の子じゃないと思った Lv. 4 (May 10th, 2014)
Community content is available under
CC-BY-SA
unless otherwise noted.